Newsletter #01
Hello from me.
3 Ideas from Me
Write about you honestly
I have been thinking a lot about what to write. Since using building a second brain as a note-taking system, I have had so much information input and I am struggling to organise it. With the amount of information, my mind has been on over-drive. Listening, reading and watching about ideas and how they apply to me. I am excited to write and share it with the world but there has been a nagging monkey in my mind. And it is mocking me. 
Whispering: "No one cares." 
I don't disagree. More often than not I agree with him. I agree so much that I stop every thought I'm having that moment to agree with him. So where has that left me? With nothing.
I started to ask the nagging monkey… wait… I think I'll give him a name. Let's call him Mark Wahlberg. I ask Mr Wahlberg: "Why do you think no one cares?" "You tell me," he answers, I think he's probably rolling his eyes.
"Tell you what?" I ask. "You tell me about you." In my mind, something clicked.
No one cares because no one knows me. I have yet to put my name on essays or articles. My name's only on fleeting Instagram posts and tweets. 
Write about your story, and write honestly. Put your name on pieces of work you will be proud of. People will start to learn about you from your words. The world will be much better for it. 
That's what I would imagine Mark Wahlberg telling me. 
Do small to do more
I've been thinking about doing more recently. I started by approaching this idea with a simple enough maxim: Do more to do MORE. What could go wrong?
Well not much, in the end, I didn't do more of what I should do. I did more thinking about the right tools to use or the 'challenge' that would motivate me best. I just did more fumbling around figuring out how to do more. 
But I read a book by Craig Burgess called: Extreme Production. Now that's what I'm talking about. I was ready to go to the extreme in my production of content. But what was in the book wasn't extreme at all. It was about starting small.
It was a simple enough concept but it immediately clicked. 
Doing small means you can do more. Think about something you're doing and imagine you're doing just a little more of it. If you goal is to write for 1 hour a day, imagine adding another 10 mins (just subtract from the social media time). That will be another 3,650 mins a year. That is another 60 hours of writing, almost 2 more days.
If you have a long term goal, start small. You'll do more.
A tweet.
---
2 Quotes from Others
By Scott Belsky, Chief Product Officer at Adobe.
Every important thought in Scott Belsky's head immediately goes into his todo list. And every item on Scott Belsky's todo list starts with a verb:
Discuss

Follow up

Meet

Ensure

Track
That's because the important things to Scott Belsky are the things he can take action on. Everything else is just noise. (Source: SuperOrganisers)
Sean's Content Creation Flywheel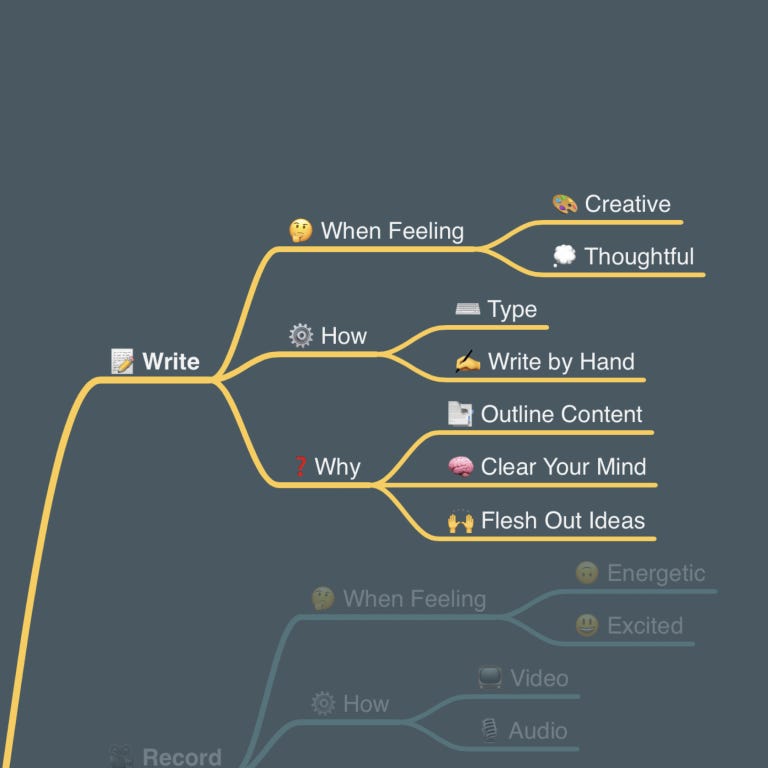 I go with my energy.
If I feel bored, I edit.

If I feel curious, I learn.

If I feel creative, I write.

If I feel energetic, I record.

If I feel sluggish, I exercise.
---
1 Question for You
Instead of always thinking about doing, how are you thinking about not doing?